Orangutans and Road Safety: Monkey See, Monkey Do?
Posted on October 31, 2011
Bam is an eight-year-old orangutan with a very important job. He encourages children to wear helmets while cycling.
Recruited by the government of Thailand at his home at the Dusit Zoo in Bangkok, Bam cycles around town spreading the important message of bike safety and accident prevention.
He delights onlookers by sprinkling a bit of "monkey business dust" in the air during the process.
Thailand has a very high mortality rate from road accidents. Last year, the daily average was 559 cases, totaling 616 injuries and 52 fatalities.
Bam dons a bright yellow or blue shirt and his smiling panda hat every time he hits the road.
He always wears a helmet too, but apparently one of his two orangutan biker friends forgot it for the photo shoot above.
He rides his favorite blue bike, equipped with training wheels, through a crowd of rapt onlookers. Bam may be an unusual role model, but he is an effective one.
This campaign is new and Thai officials will be watching it closely to see how effectively Bam influences children about bike safety.
"It's not often you see an orangutan on a bike, but Bam could inspire children to take care," replied one observer.
Go, Bam! But don't bam. Leave "bamming" for one famous chef named Emeril Lagasse, who does it safely.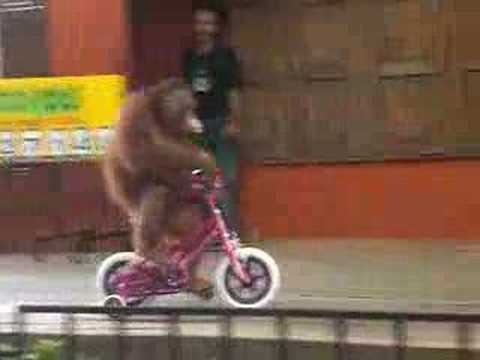 (Link)