Japanese Town Puts Bounty on Troublesome Monkey
Posted on September 25, 2010
Authorities in the city of Mishima, Shizuoka Prefecture are offering a reward of 200,000 yen ($2,370) for help in apprehending an elusive suspect described as "hairy-armed and dangerous".
Since late this summer a monkey, or possibly a band of monkeys, has been terrorizing this picturesque city in the foothills of Mount Fuji. Roughly 100 people have been attacked with several reporting being bitten by the pesky primate.
A special anti-monkey section was established within city hall, patrols were stepped up and monkey sightings have been posted regularly on the city's Web site. However, the culprit has remained elusive, thwarting every effort by the local police to bring him to justice.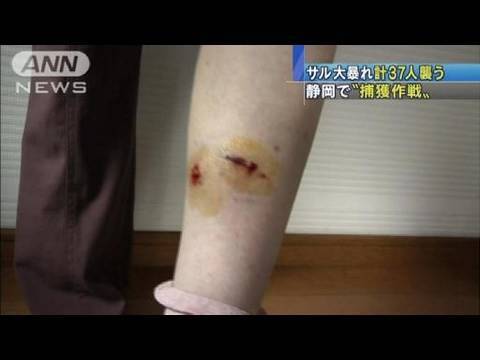 So the city finally decided to place a bounty on the monkey's furry head. The reward only applies in cases where a monkey enters a residence and the owner is then able to lock the creature inside until authorities arrive. It is illegal for private citizens to hunt monkeys without special permission.
The city promises to pay for any damages to homes caused by a trapped monkey, in addition to the 200,000 yen reward. That extra money should go a long way in replacing a few scratched up tatami mats.